We're doing something unconventional today. I can't remotely begin to
imagine the woes people face compared to ours. Everyone feels their own problem
is the biggest, but there are some problems we all actually empathize with. I
know this probably isn't the space for this but hey, I've got a platform where I
can make someone's voice be heard. Someone who NEEDS to be heard in order to live.
Please read along and do your bit.
Flat No. 16: "Happy Birthday to you!"
Flat No. 17: "India lost, I need some alcohol"
Flat No. 18: "Will you get ready already? I don't want to miss the
start!
Flat No. 19: "When should we start chemotherapy again, doctor?"
Don't fret, it's not as distressing as it seems. You would say that too
if you met Rahul. Brave, determined Rahul. He doesn't have a tragic story that
will tug your hearts. Quite the opposite. He has no story.
A regular chip off the block, Rahul worked in an IT firm in Bangalore,
married his long-time girlfriend and stupidly made plans to decorate his new
house. He should have known better. Just when you think you have it all, Life throws
you a curveball!
Your chaddi buddy, friendly neighbor, the guy you met every morning on a
jog gets Multiple Myeloma. Multiple Myeloma…no matter how you say it, it sounds
scary and confusing. "It was like being hit by a 300 km/hr train. I didn't even
know this thing existed," he said.
The
thing

is a condition where collections of abnormal plasma cells accumulate in the
bone marrow and interfere with the production of normal blood cells. Simply
put, cancerous plasma cells erode bones, and deprive the body of fighter cells,
well-functioning kidneys and oxygen-carrying cells. Multiple Myeloma, they say is dangerous. It develops in 6.1 per 100,000
people per year – cancer's own Halley's Comet. It has a five-year survival
rate of only 45%.
To Rahul, it meant chemotherapy and a bone marrow transplant. Between
being injected and cut open, he founded Yoddhas – a support group and NGO for
cancer patients and their loved ones. His struggle has reminded cancer fighters
that they're not alone, that fighting cancer is cool. Just 2 years old, Yoddhas
has already been recognized by UNESCO for its dedicated efforts.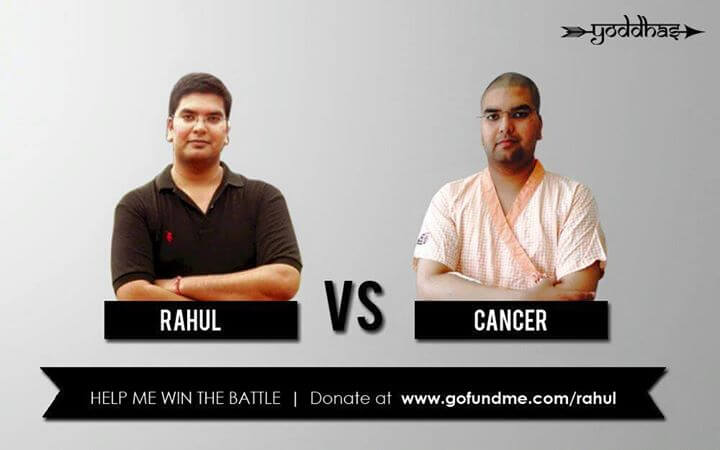 Rahul basked in his success – 100 days post first bone-marrow transplant
and Yoddhas. Until his cancer retuned full force. Although he has his best
boxing gloves on, cancer is turning out to be an expensive adversary. He
requires yet another bone marrow transplant to win this battle.
It is naive to assume that such a large amount is stacked somewhere in
his bank or Godrej locker. WE can help him kick cancer's scrawny ass. So here's
raising a campaign for this brave soul.
Direct India transfer
Account Holder Name: Rahul Yadav
Bank Name: HDFC Bank
Account No: 17511610000822
Branch Name: VICTORIA LAYOUT
IFSC Code: HDFC0001751
Rahul Yadav:
+91 95605 32925
Also, this is a
genuine case, for whoever has a doubt about it. Cause you just might. Please do
your bit. You might not be able to shell out a lot but everything you could
will be a drop in the bucket and really appreciated by him. I know this is a
space for Fashion Blogs but this seemed like the right thing to do. Support
such causes and do spread the word.
On a lighter note, I
totally loved what Emma Stone and Andrew Garfield did for these NGOs.