We are near the countdown and I'm hoping you people had just as wonderful year as I did. Thank you so much for all the support and appreciation. I've come along the year with being done with college, working as a stylist, and a starting a platform where I could share my know-how of fashion and will continue to walk you through my everyday experiments with the wardrobe.
The Christmas pictures couldn't be posted as the card got corrupt but I'm hoping to reshoot the outfit in 2015 nonetheless. The good part being, I'm hoping to make up here with three NYE posts in one. I always start with all the hoopla of shopping in the name of the perfect NYE outfit and end up picking a lot more. So, I've gotten together my personal favourites. I went with a full sequin short dress last year, so I decided to skip them this year though it could be your last resort if you're in two minds. This year, I am still swearing by the shimmer and glitz detailing. The festive season gives the liberty to pull out all the bling and the shine from the closet and that is exactly what I did.
LOOK 1
Usually I go for something short for NYE, so this was the first thing that came up with. I didn't want to repeat a short dress so this textured fleather skirt from Redress was my next best bet. It was one of my last minute purchases and it lets me bring out this Forever New jacket. Neon clothing has been a part of wardrobe for the longest time and it being a part of my last post seemed right. The Dylanlex neckpiece brought the needed tinge of boho.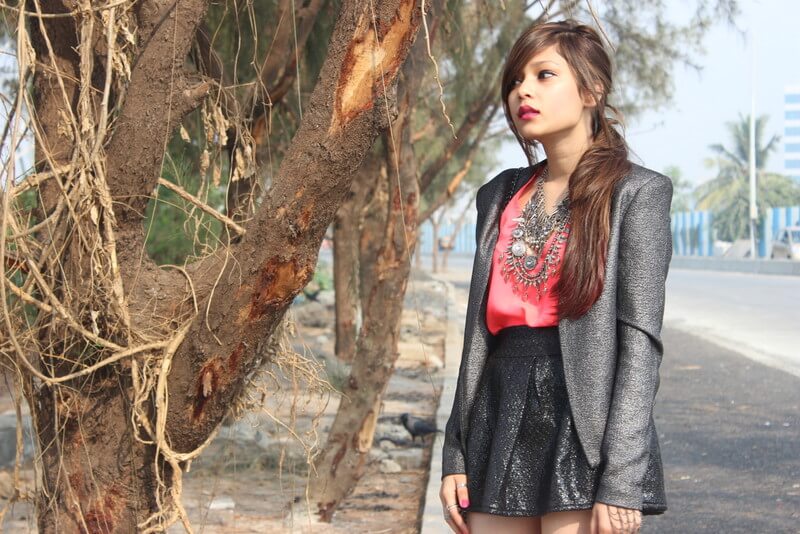 Blazer-ForeverNew, Top-VeroModa,
Skirt-Redress, DylanlexNecklace-AllThatIsPretty,
Heels-Catwalk, Sling- Snazzy
LOOK 2
There are a lot of you who would shy away from skin show and I'd say this look would serve best for it. I would even go with this look for a concert. I simply loved the detailing on the leggings that was a steal from Koovs and the peplum cut-out top seemed to go well with it. Junking up on NYE is something I would be doing so look made the next potential option. I've loved all kinds of hand and headgears, and would fashion one as and when I get the chance to.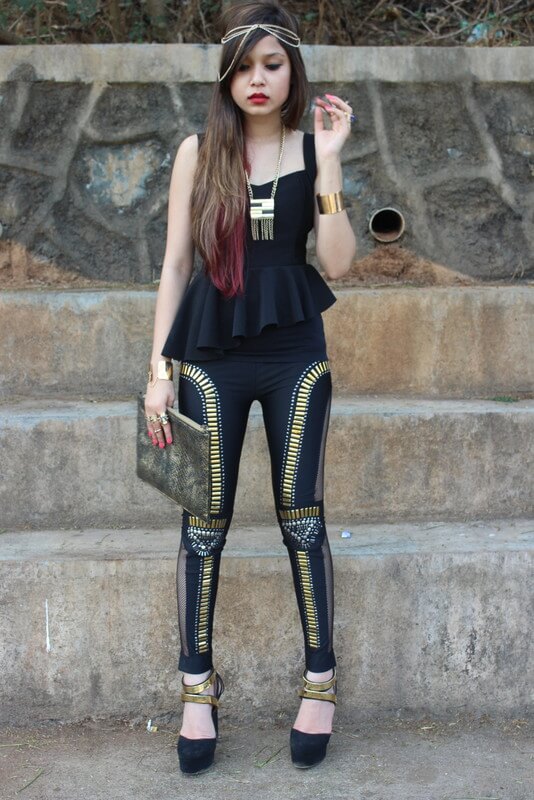 Leggings&Heels-Koovs, Top-Redress, HeadBand-Forever21,
Handcuffs&Rings-BdayGift, OnMyNeck-Blur
Sling-Exhibition
LOOK 3
I went with the metallic grey maxi gown for the last look, which had a cut out back and just the right length. I paired it with a pair of statement earrings from FancyPants. I think this look could be worn for a commercial party without the worry of being ogled at. I loved the fit of the dress and the colour was just right!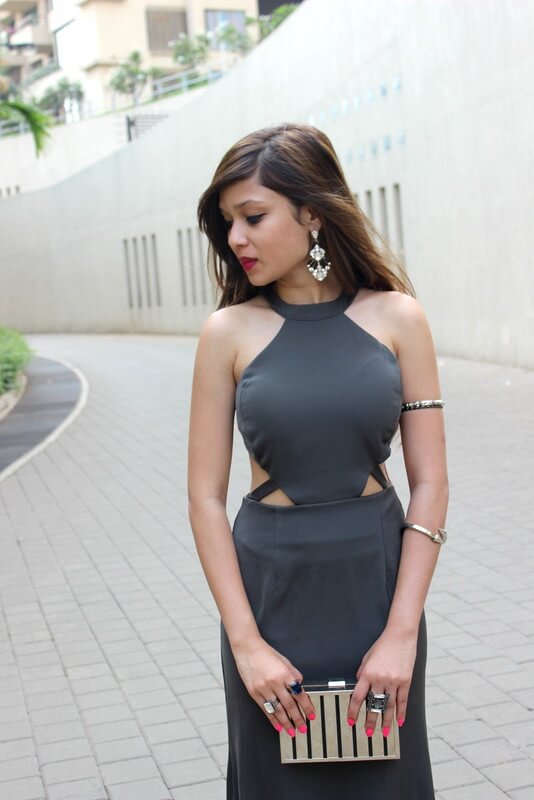 Dress-GoldDust(Lokhandwala), HandCuffs- BdayGift
Earrings,Rings-FancyPantsTheStore, Clutch-BdayGift
I hope you all liked the post. I'd love to know which look did you like the best. Also, do tag me on what you people decide to wear this hyped eve! I'd suggest all you girls to carry a jacket with your outfit as it promises to give an edge and the necessary layering for a safe start to 2015! I've loved your feedbacks to my posts and the encouragement to do more. With unreal resolutions being made, I hope to make a real one with blogging more and connecting with you guys more often! Here is to future experiments, crazy parties, more shoots, and lots of love! See you on the other side!
Love,
Riya