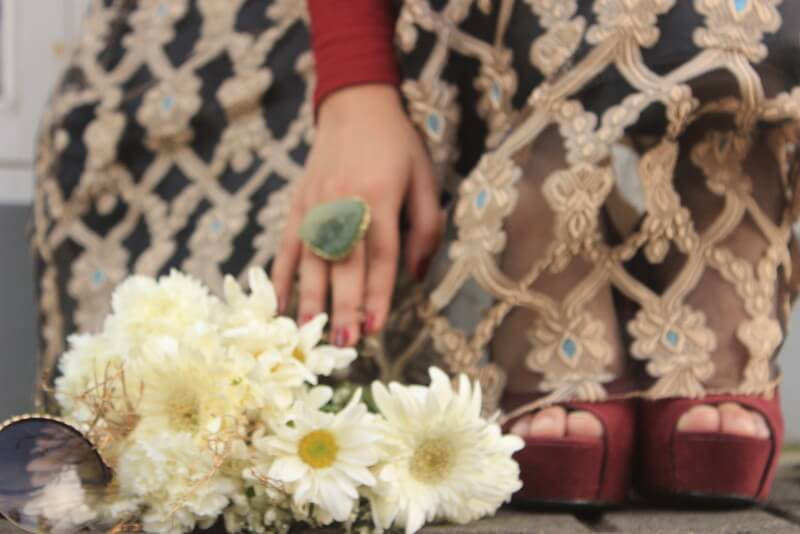 Skirt- Classicouturegallery, Crop Top & Heels- Forever21,
Choker- Blur, Ring- Lokhandwala, Glares- Lola's Closet
Hello there,
Let me introduce you to this lovely tulle skirt, it gave me such a grand feel on trying. I am lovestruck by this masterpiece from
Classic Couture Gallery
. I wanted to go that afternoon itself and shoot it because I just couldn't resist myself. I wanted to own one tulle skirt since a really really long time and this be the start.

While we decided to shoot the next day, I was all excited to style this tulle skirt. I was viewing my closet and started searching which crop top would match the best. I was in two minds, whether to go with a navy blue or oxblood. When I tried the oxblood, it made the whole look much prettier and the full sleeves stood out and made the way to go!
So I decided to head with my plain oxblood crop as the skirt was printed. If you happen to follow me on
Instagram
or
Twitter
, you all would know, lately I'm teaming everything with red. I'm gaga about all of its shades.Anyway, I didn't accessorize heavily because the skirt itself gave a royal touch so I thought to keep it minimal. I wore a broken stone ring and completed the look with a golden and black choker.
There are variations in tulle skirts, I've loved the bright plain colours and varied prints. Tulle skirt sure make you feel like a princess for the time being as you are sure to catch a few eyeballs sporting these skirts. You can either wear plain crops with them or even play with prints on prints. I agree with both.
You can check out
Classic Couture Gallery
for more clothing from this collection. It is a Delhi based online store and trust me their stuff is really pretty and I'm totally in love with it. You can follow them on
Instagram
and
Facebook
to know about their crazy offers too.
While deciding the whole look, there was something that I always wanted to carry in my posts which were these pretty mix of white flowers and here was my chance.
The whole shoot needed to be just as royal as I didn't want to let the skirt down, I wanted the location to be amazing so we headed early morning to Pizza By The Bay, Marine Drive and had a blast while shooting it. Hope you guys liked this post. Until next time 🙂
Love,
Riya