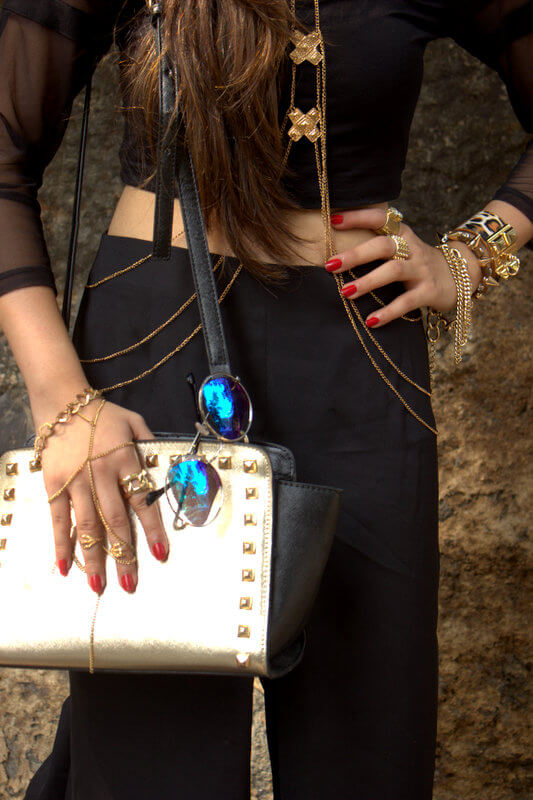 Culottes- Koovs, Crop Top- Forever21, Sling- Snazzy,
Rings-Madishthestylebar, Claw MidiRings- Popfashion,
BodyChain-Allthatispretty,
Hand Chunks- Lokhandwala Market
I believe, wearing black on black never goes wrong. I do that when I really like a black top or bottom but weirdly can't find something to tag it with or I'm just too bored.
With curiosity came a little hesitation to try something new! I've been all ears to new trends and putting up a good show is what I try.
While I came across this culottes, I was in two minds whether I can carry it or no, and I went for it anyway (Exactly how I take most of my decisions). These culottes come off more like skirts but basically they are knee length trousers. They can look very elegant and they are surprisingly versatile. I actually wear them more than I thought I would. They have pleats which give a structure and make it look more like a skirt. It also has back darts which helps it set on your body type comfortably and look really chic.
Whenever I tried culottes in the past, the fit wasn't up to to the mark. But when I got my hands on these pair from Koovs, they fit like a dream. Culottes can even give a contemporary look when worn with a boxy T-top or even when worn with a cardigan over it. And they could always be worn with a casual T-shirt or a Shirt for an everyday look, so you don't have to save it for special occasions. As I earlier mentioned for me, black is a saviour so I decided to team up with mesh crop top from forever 21. The fabric possibilities for these cropped pants are almost endless.
I wanted to play around with black & gold so I decided to ditch the colours and just take a leap of faith with the heavy accesorizing. I wore a gold body chain to give it a grungy look and added a few hand chunks. I also wore my favourite rings and my new heart mirrored sunnies from Madish. These heels were a part of my birthday gift and they actually blended well which made it as the last piece of bling needed for this look.
Trying out unconventional things is something I want to do more even with the hesitation of it probably getting doomed. So wear what you want girls, and as long as you feel good, you'll look good! And if you do try culottes don't forget to share your pretty pictures and tag me on Instagram.
Love,
Riya Jain