Valentines day is just around the corner and I am sure some girls are worried about how are they going to dress up for their special day.
Well, I think I am too old to be excited for Valentine's though but I always need a reason to dress up so yaaa!
I recently visited fbb and trust me, they got us covered for all the occasions. Be it brunch, lunch, movie, dinner date or the in betweens. I decided to cook up two looks for you all from their collection.
One is the candle light dinner look, where I wore a black maxi skirt with a white shirt and carried a red sling. I wanted to keep the look simple and minimalistic. Just to play around a lil, I added a knot to my shirt to pep it up.
My second look is a shopping-day-out look with my girlfriends and I have kept the look very simple again. I decided to go with a beige shirt with a maroon knitted jacket and paired it with shorts. This look is pretty casual and once a while I do go by it without a statement piece. Hoping to get some agreement from you guys too. Also these boots are my absolute favourite in the shoe collection from fbb.
I'm keeping it simple these days leading up to Valentine's and hoping I was of some help too! Also they are running with a Valentines day contest. You can check here!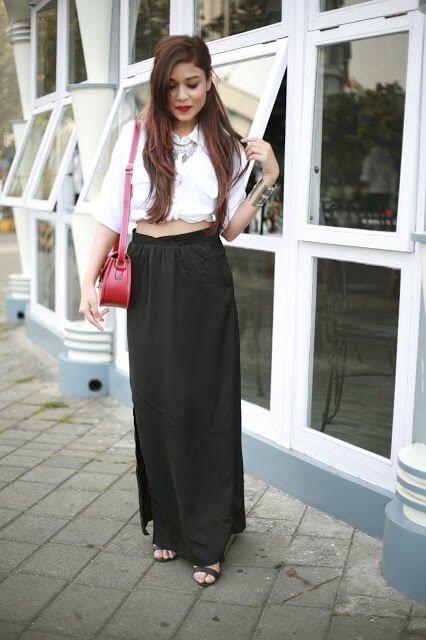 Maxi Skirt, White shirt,
Red sling – FBB, Choker – Colaba
Look 2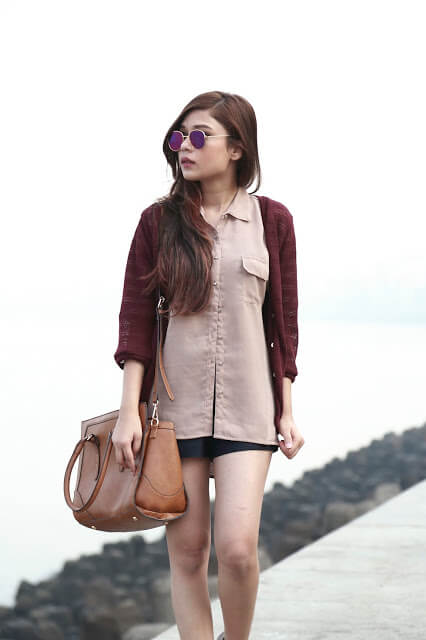 Shirt,Shrug & Boots – FBB,
Bag- Accessorize
See you
Riya