Helllooo 😀
Recently, Phoenix Marketcity – Pune had a super fun contest/event called "ShopOlympics" where I, along with three other Pune bloggers participated and had an awesome time. Our challenge was to create as many looks within 60 minutes and a budget of Rs 5000. Definitely a challenge ! Hahaha!
We could not select our preferred brands and we had to pick out chits and I was praying that I should get my favourite brand. I got FBB (Fashion at Big Bazaar) and I was really happy about it. I rushed to the store as the timer started. When I entered the store I was surprised to see their spring summer collection and all of the stuff was so reasonably priced. I created four looks and am sharing the pictures down below 😀
Look 1 – Shopping Look
I love maxi skirts because they are just too comfy and if I am going for shopping then I always prefer wearing very comfortable clothing. Unfortunately, I didn't have pictures of this look in my DSLR so bear with my phone camera image 😉
Look 2 – Movie Date Look
I love loose trousers and when I saw this pair at FBB, I knew I had to style it. I would wear this relaxed look with my girlfriends for a movie date for sure.
Look 3 – Dinner Look
Print on Print is something I always intend to do wear and was happy with how the prints blended well. Would give this a go for a dinner date.
Look 4 – Coffee Date Look
This is my favourite look! Denim is something that can never go wrong and works perfectly for almost everything. I was in this dress throughout the day after I put it on.
This look is a very chilled out look and can be worn for outing with friends or even a coffee date.
So I created these four looks and had an amazing time there. I also met few of my cuties who actually came to the mall to see me. I am just more than thankful to each one of you. Before I get emotional, how can I forget my blogger friends who made me feel so comfortable and we all had a blast.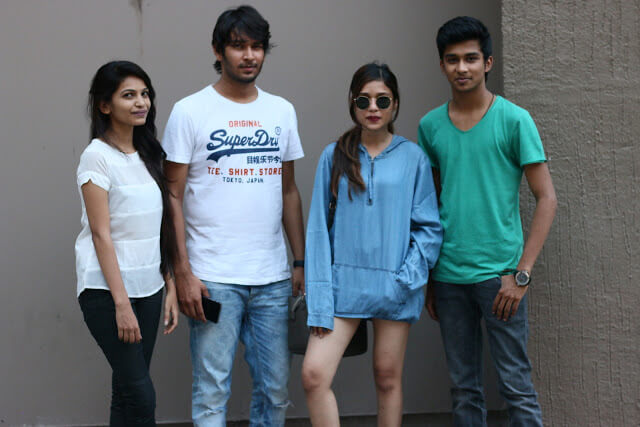 My cute little Instagram Family
Hoping you enjoyed the post. See you super soon 😀
Love,
Riya