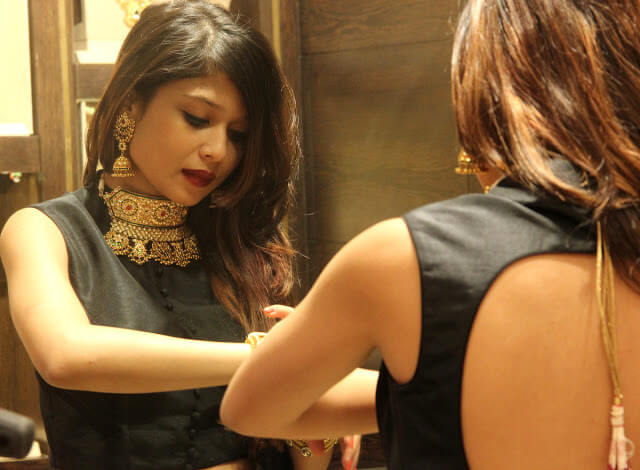 Hello guys,
It's been long since I've posted here but I'm more than making it up on Instagram :') But I'm doing all kinds of making up with this bomb post which I recently shot at Manubhai Jewellers(Borivali).
Manubhai deals with real gold and diamonds which lets me don their wedding collection called "Utsavi".
I can describe their collection in one word, that is gorgeous.
All of the pieces are so different and equally beautiful. I choose to go for a heavy look first and balanced it with a relatively lighter look.
Let's talk about the first look where I chose a choker with ghungroos. Even though the earrings made the look a little OTT but the royal look simply asked for it.
For the second look, I went with a heavy layered neck piece and bangles with Keshi pearls which I absolutely loved at sight. Yes, it is quite the Jodha Akbar type and carrying it off totally gave me the chills. But I dig such jewellery for personal weddings. They speak statement, have been traditionally won't over the years and one can hardly go wrong with it.
The designs were breath taking and I was lucky to wear what I personally loved. Do visit them to have a look at some unique pieces that are a must for Indian Weddings.