Hello there,

smile emoticon Early wishes for a very Happy Valentines!

grin emoticonIf you're following me on Instagram and Snapchat, you might have an idea that last week I was at Nashik attending the #VeroModaSulaFest. I've contemplated for years now but never could make the time for it. This was my first time there and it was so so worth it! It was a whirlpool of positive vibes with people soaking in the sun and the day was full of happy. The festival was for two days and the chill scene didn't have me wanting to come back.

Coming to my look, I wanted to give a boho touch to a rather grunge look. I picked the knitted ripped top and paired it with shorts. I feel ripped clothing is quite a hit at music festivals and has always worked well for me. I tagged a few boho accessories and a printed shirt for layering. Also, I wanted to wear the knee length boots for the longest time, so after much comtemplation, I took the plunge and felt it actually blended well. I did think of wearing a hat too but I am sure I would have looked like a clown with all this jazz already. Haha.

My whole look for the fest was from Vero Moda's new summer spring collection. You can visit their stores for the whole range. It is well-curated, keeping in mind the fests and obviously the season must haves. You can find the collection here.

Vero Moda had a cute lounge where we could chill and shoot there too. I obviously couldn't miss the Vero Moda installations. The decor was so colourful and pretty which added to the happy vibe. I totally enjoyed my last weekend and am already missing it way too much! There was some amazing wine, kick-ass gigs topped with Vero Moda's rad fashion show to display their Spring/Summer collection. Totally looking forward to it attend next year too. Hope you enjoy the pictures!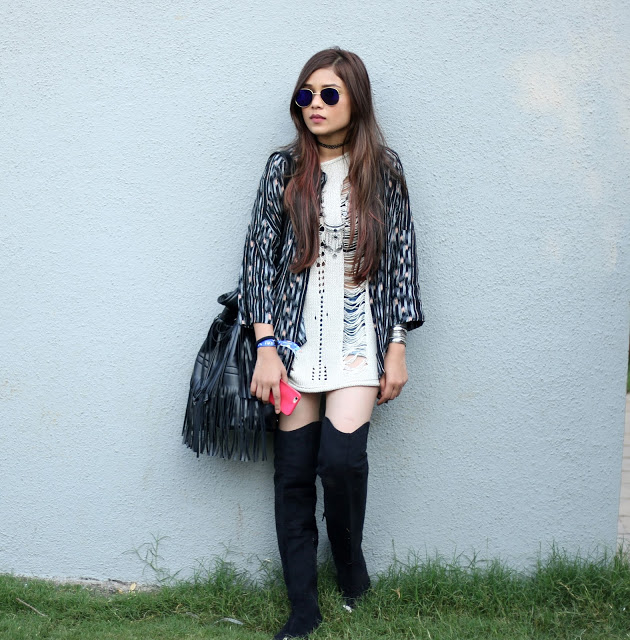 Knitted top, Shirt – VeroModa,
Boots – Koovs, Bag – MadishThestylebar