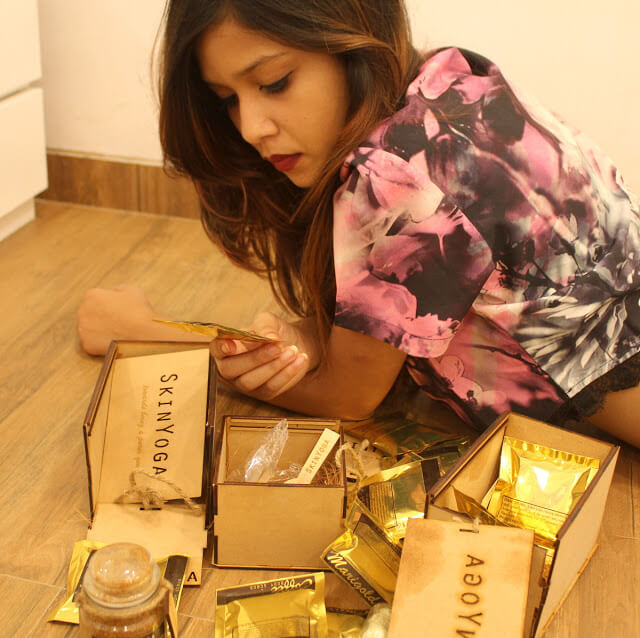 Hello there,
This post is different from my normal posts. I am not styling any outfits but yes, this time I am talking about my skin care. I am very lazy when it comes to my skin. Trust me, I really don't take good care of it. But I have realised that I did the biggest mistake by taking it so lightly. It could dry up or be oily and break out. Also, the skin will start looking old before its age.
Recently, I was introduced to Skin Yoga products and this was my first time trying healthy products on my skin and I was very very excited. SkinYoga is a brand that provides immensely rejuvenating products for the skin and they are 100% natural. You just can't go wrong with these.
Skin yoga has a lot of variety in their scrubs and I was lucky to try some of it. The face scrubs smell great and is very simple to use. Just need to add a lil water and make the paste thick and apply it on your face.
Everything used to make the products is so natural and the scrubs are obviously grainy which makes your skin feel so soft and gentle. I even got miniature bottles which are so good and easy to carry while travelling.
They even have foot scrubs to serves my feet carelestoo. I won't ever know how I got a scratch or a mark on my body. My feet get dry too at times but I never really make time to pamper them. But these scrubs were simply calling out to me. They have a bunch of options and they are so so effective. I think I'll be definitely using them once every alternate weekends if not more and obviously, on days when there is a sudden need.
I don't suggest using too many skin care products(Obviously you can buy them, I am a hoarder too!) at once as more of it usually doesn't turn out well and break outs or allergies just follows it. And I always try to keep it minimal even during shoots. You could definitely try different products to know which suit your skin but I suggest you avoid using them simultaneously and making a habit out of it. Hoping to venture into skin care too soon. Do let me know what works for you!