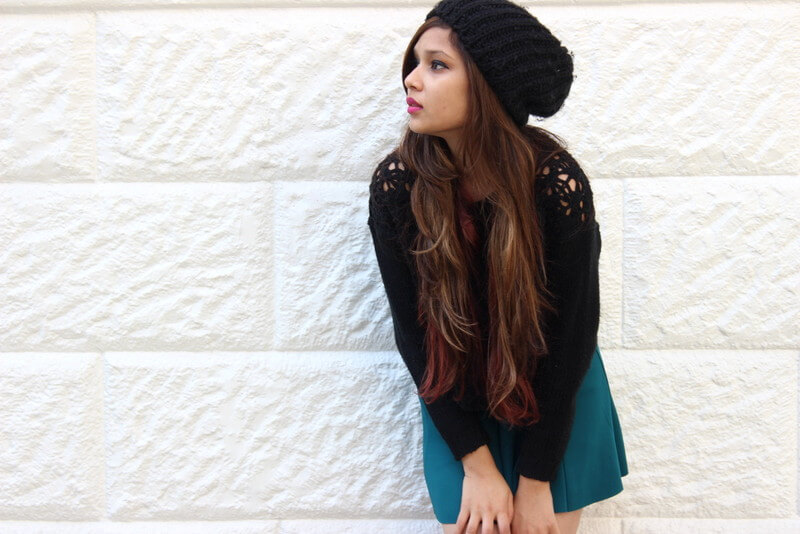 Skirt and Socks- Forever21, Crop Sweater- Redress.
Bagpack-HillRoad, Boots- Forever21,
Beanie- Accessories
Winters are fading and so is the reason to wear snuggly covers. We're already prepping up for summers but I had this look in the backlog which is going up now. I'm giving a jist of my favorites from this season. Starting with the Beaaaniiieeee! I've worn it in the first winter look too and in my other OOTD as well. It gives you the perfect winter vibe. I'm hoping to pick up more colors before the next winter. I completely loved this teal skater skirt, it is one of my favorite colors. I think skater dresses and skirts suits almost all body types and more often adds the cute element. I was in two minds if I should go for stockings or socks, but I wanted to do a high socks look. Though I tamed the thigh high to a length that I thought suited well. I went with my next favorite, cropped sweaterssss. They are your rescue in the cold when you don't want to layer, though I love layering too. I picked up this yum bagpack for a steal which I've tagged quite a lot this season. The last bit were these gorgeous boots I picked from forever 21. I've used every opportunity this season to wear boots and will be doing so for another month I guess. I'd love to know your favorites and what you thought of this look.
Love,
Riya Jain.