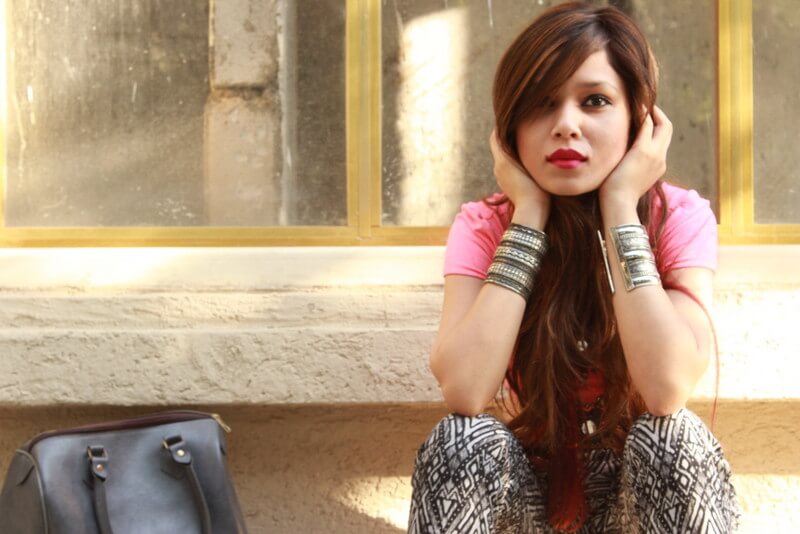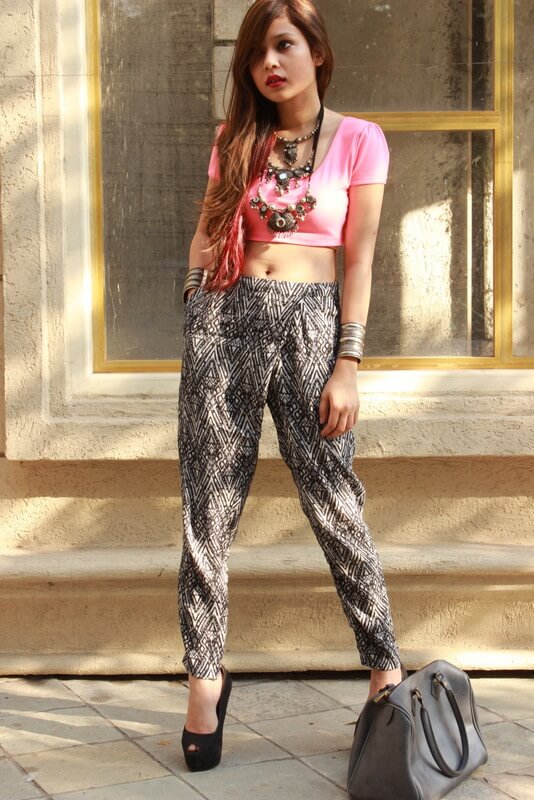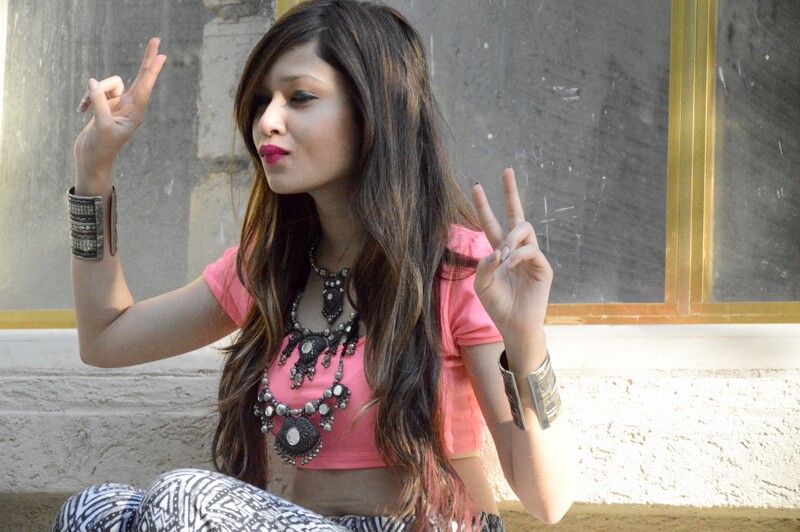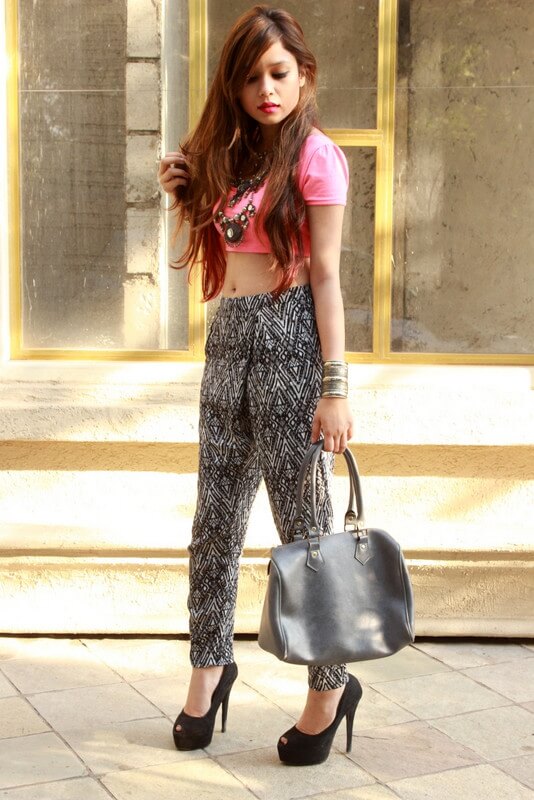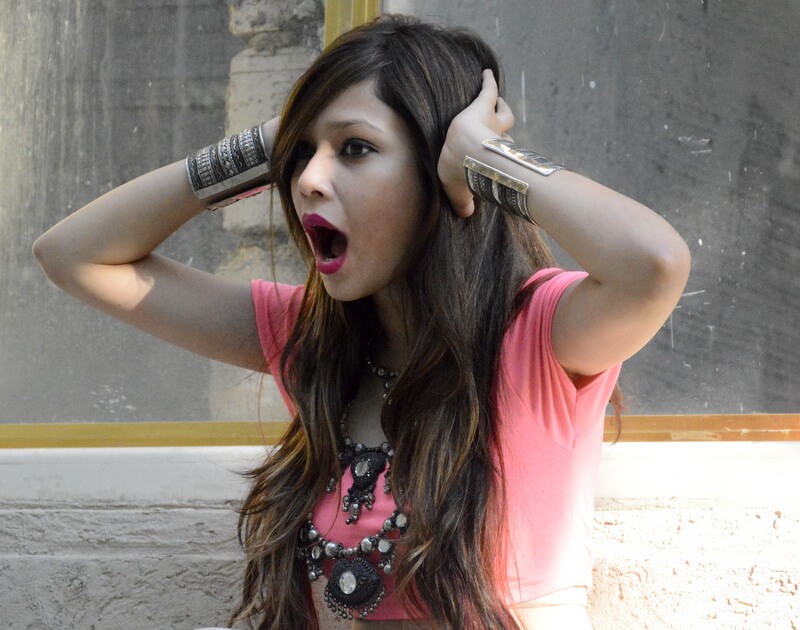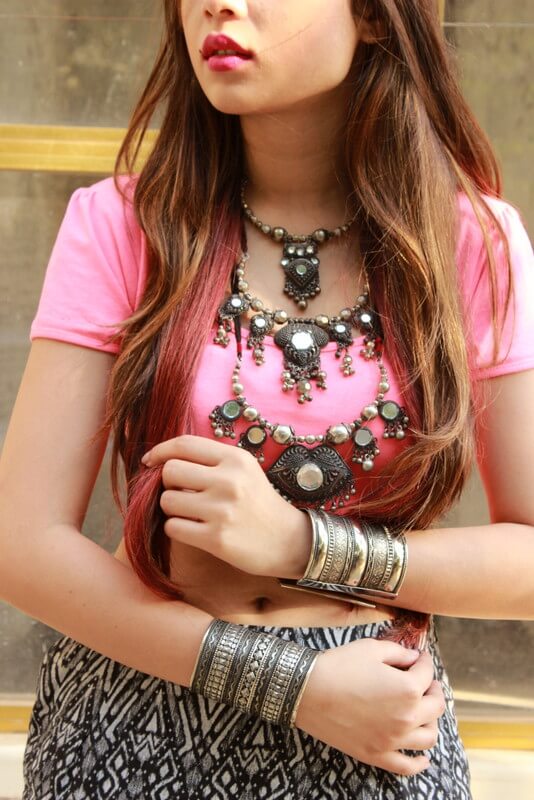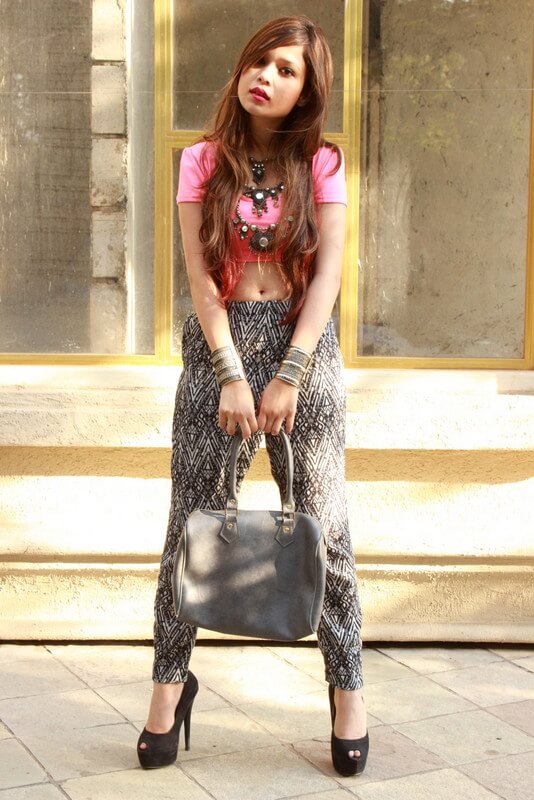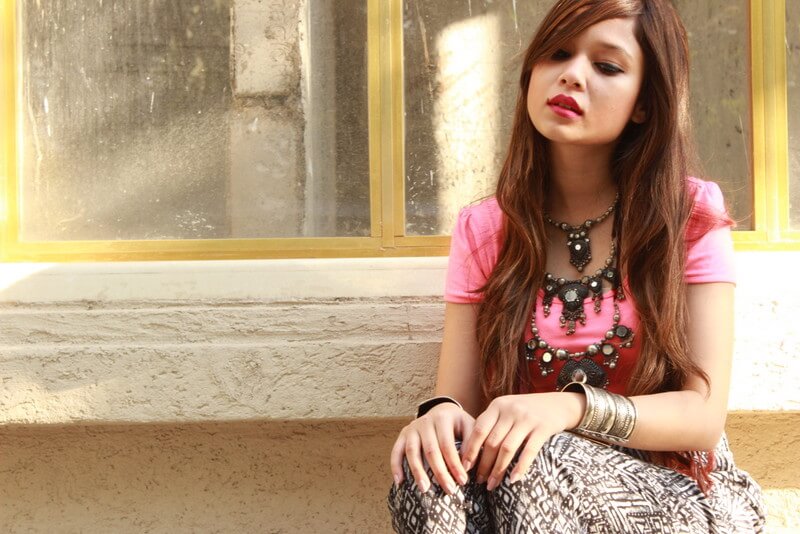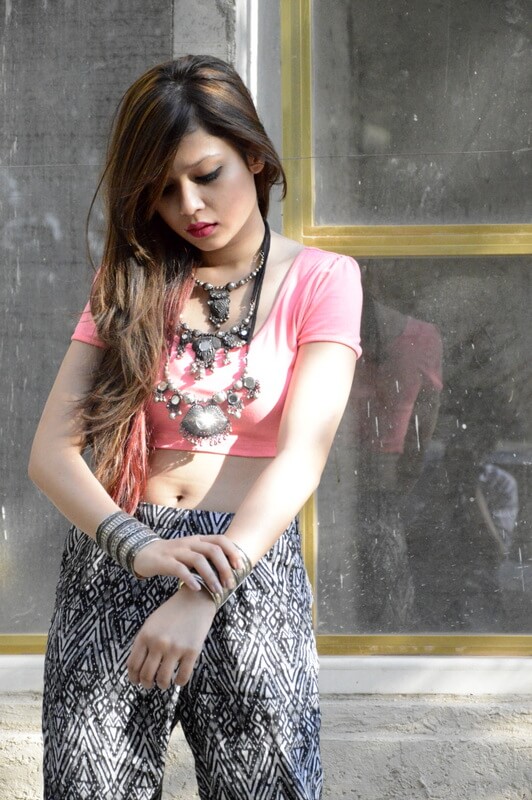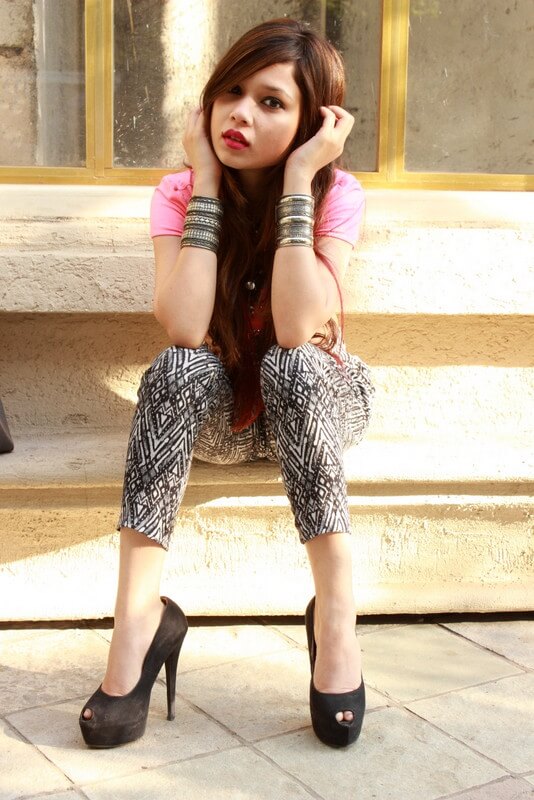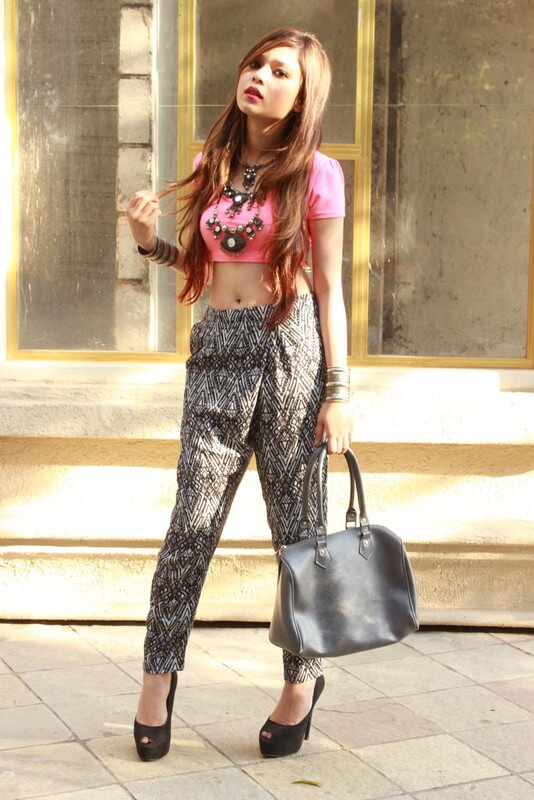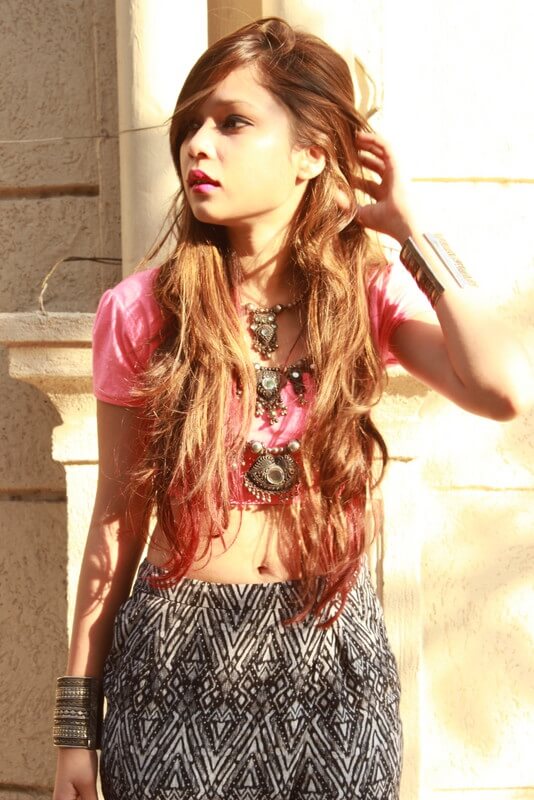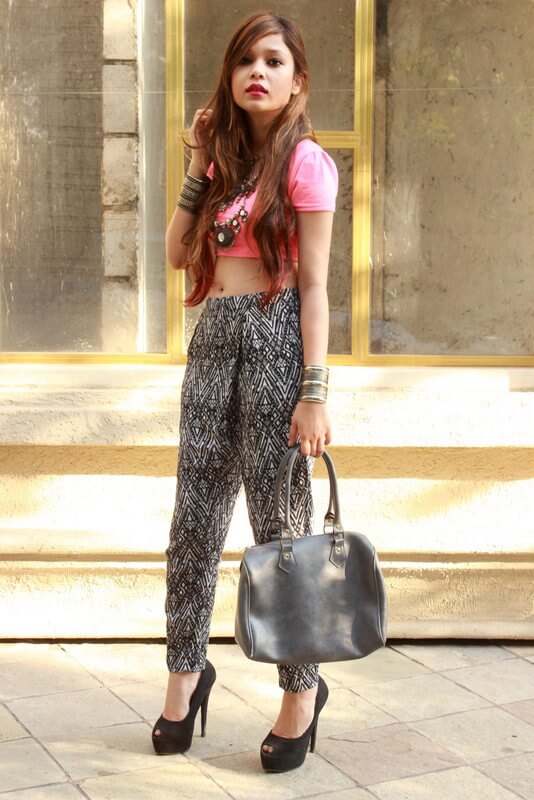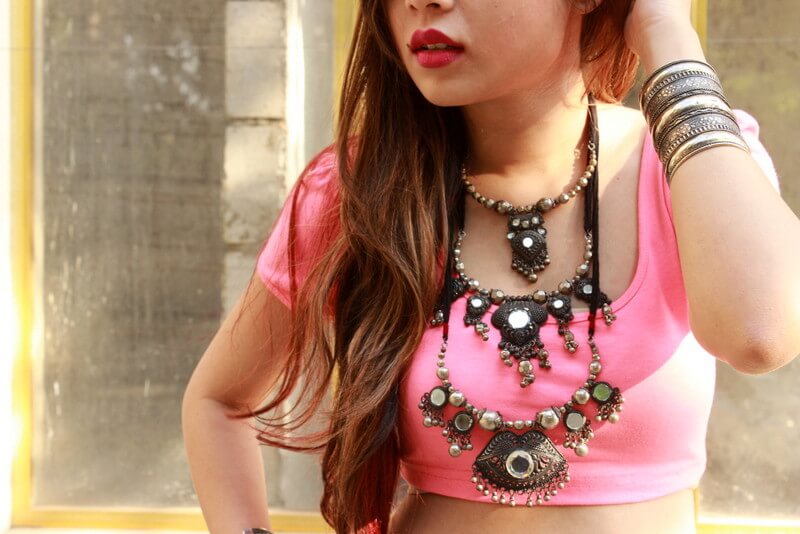 CropTop- Forever21, Pants- Forever New,
Accessories- Replay (Lokhandwala Market), Bag- Bangkok
Heels-China
Happy Sunday you all!
One can manage to wear a particular outfit in a number of ways, but jewellery is something that gets noticed more prominently. And with Instagram being the constant update of what we wear, it gets a little difficult to do the same with statement pieces. So recently I rediscovered oxidised jewellery. People do opt for them during the festivities, but they've managed to be a part of my wardrobe quiet effortlessly. More of which will be seen in my #OOTD pictures too. I more or less developed a fetish for it from my Dylanlex neck piece. You guys may not be a fan of it but when you try them on, it looks oh so pretty. I like how these pieces give a boho vibe to the outfit.
I built this look just around the accessories. I loved these cuffs too. It is a good choice when you want to give the golds a miss. I teamed my Forever New monochrome loose bottoms and added some colour with this cute neon short crop top from forever 21. The slouch pants are obviously comfortable and like the dhoti style. Also, they pair perfectly with shorter crops(Well, you get my point!).
Everyone knows the balance of the slouch and perfect fit. The top or bottom are preferred to be either of it. And these brallete sized crops suit all loose pants, palazzos and even jeans. It is a saviour for people who want to highlight their perfect lower bust and not the waistline. This whole look was somewhat an experiment for me which has now turned into a preference. Also, I'd pick rusted oxidised pieces over the shiny ones to blend better with outfits.
Also, I hope you guys also had an amazing weekend like me. If you happen to follow me on Instagram, I attended the Summer/Spring 2015 Preview of the new collection from Only India and Vero Moda. And trust me, their collection is refreshing and so much fun. A mix of pastels, sports luxe, monochromes, denims and a lot more. The collection will soon hit the stores so stay tuned.
Meanwhile, don't forget to tell me how did you like my pair up with oxidised accessories, which you should totally give a try! More posts lined up, lovelies. Until then.
Love,