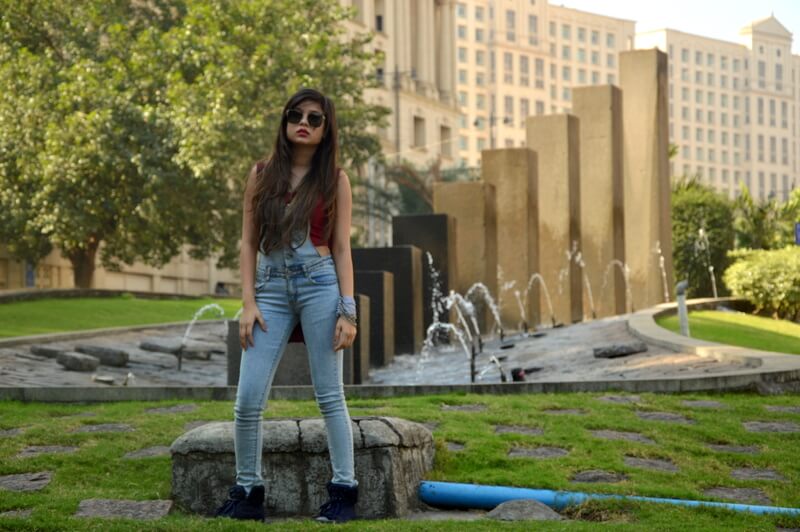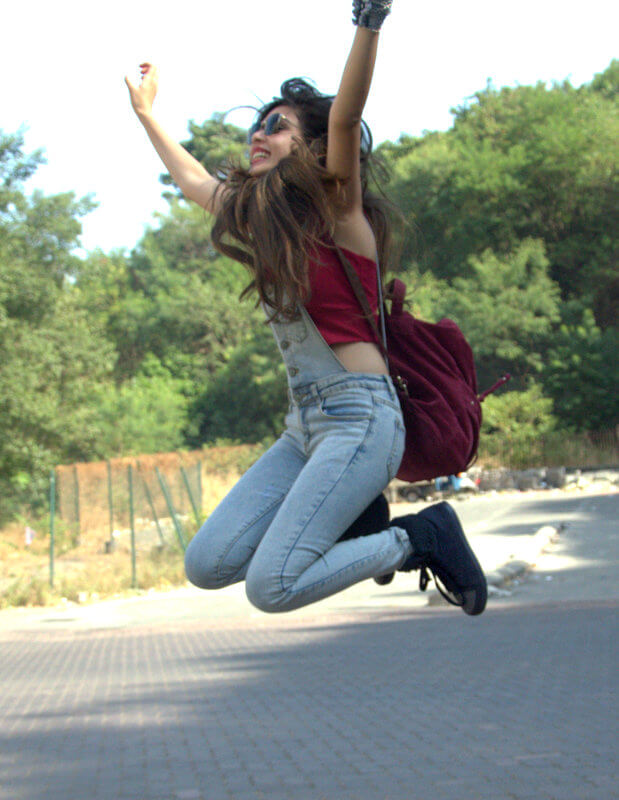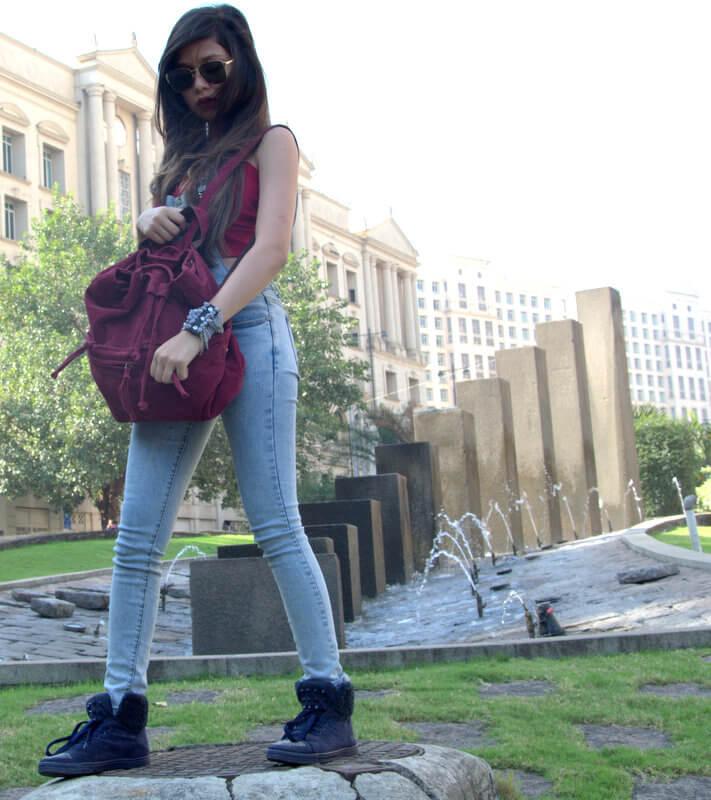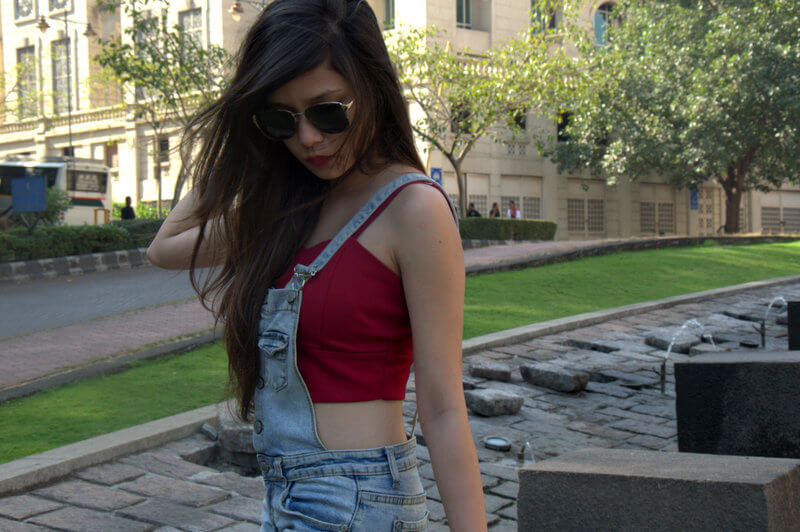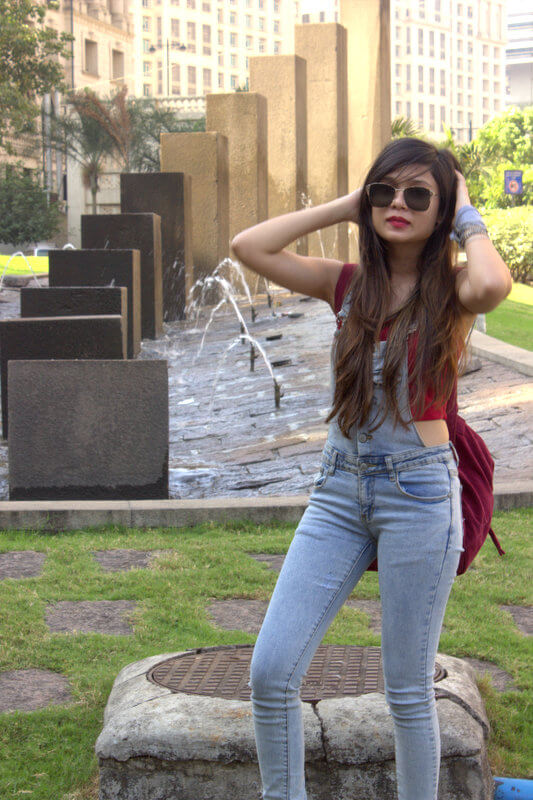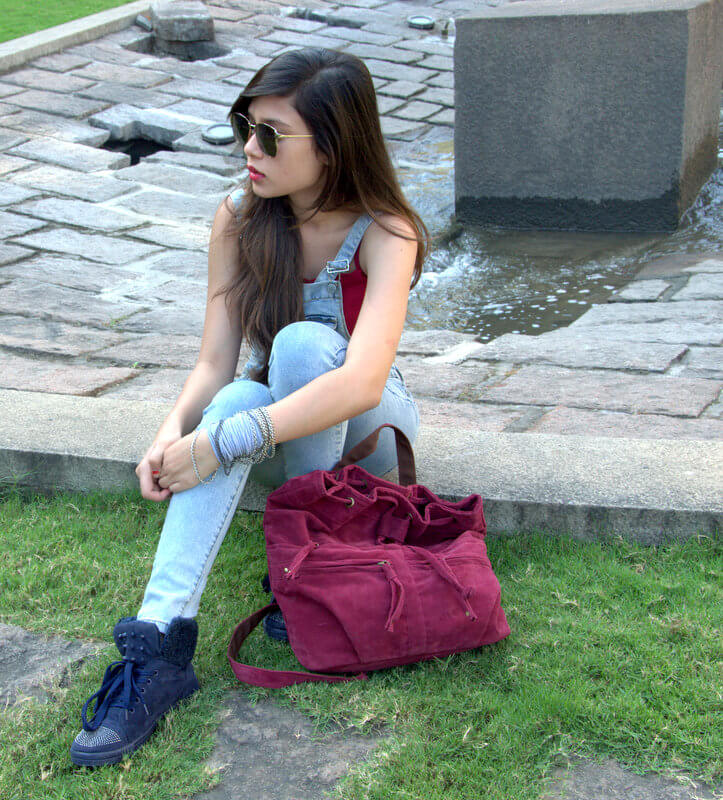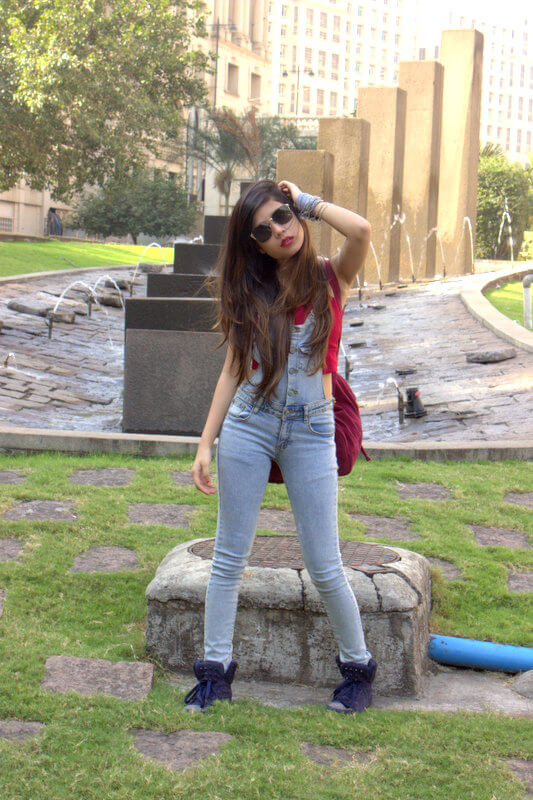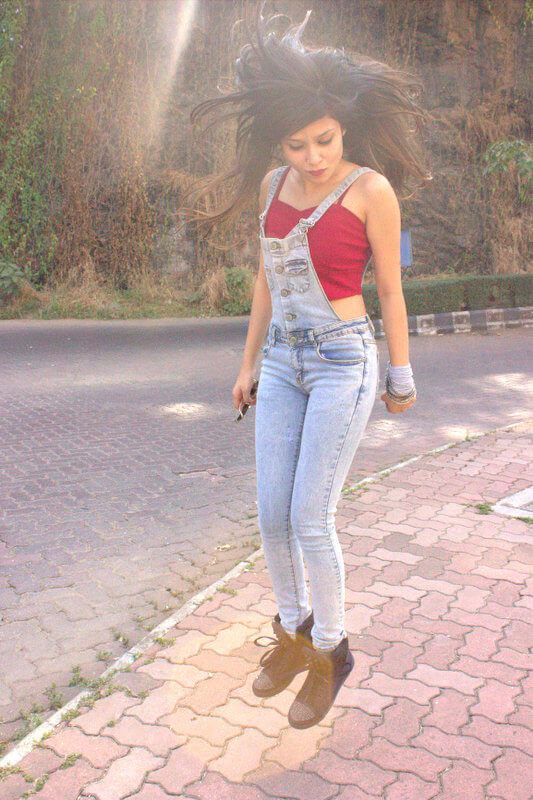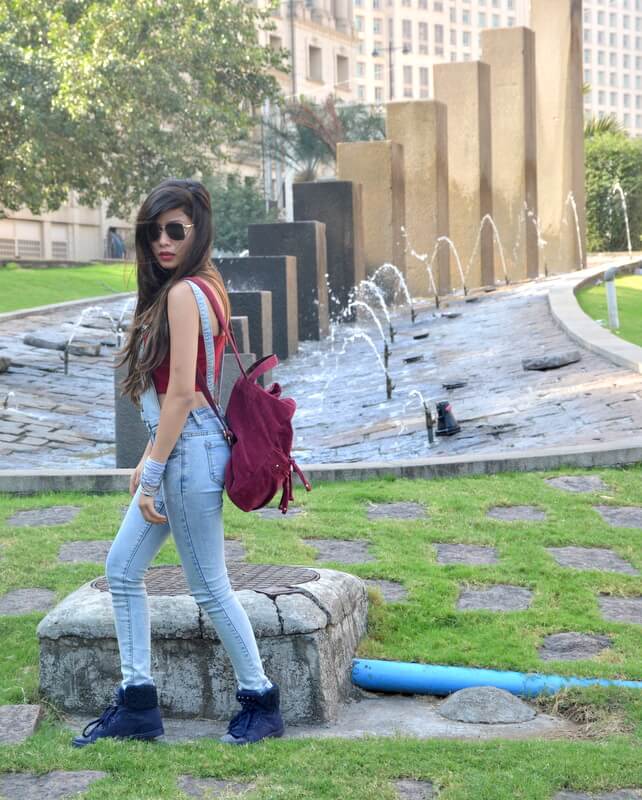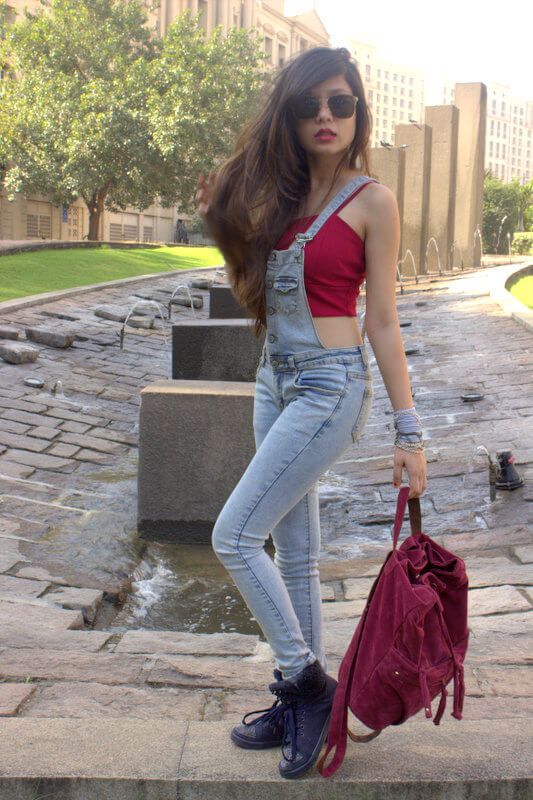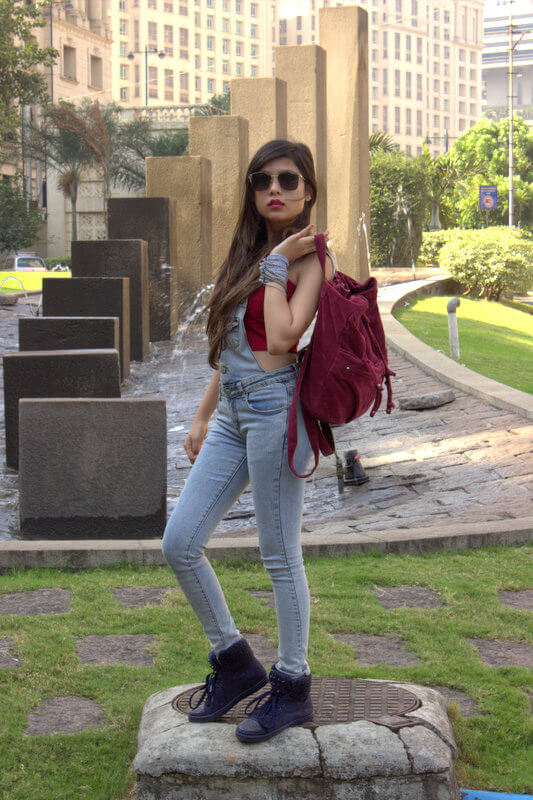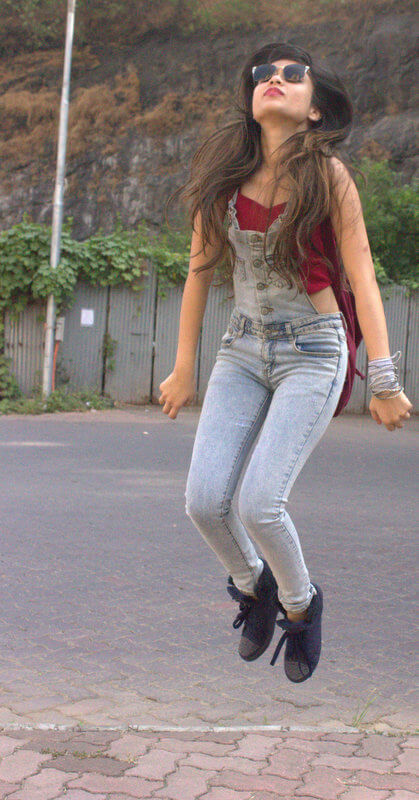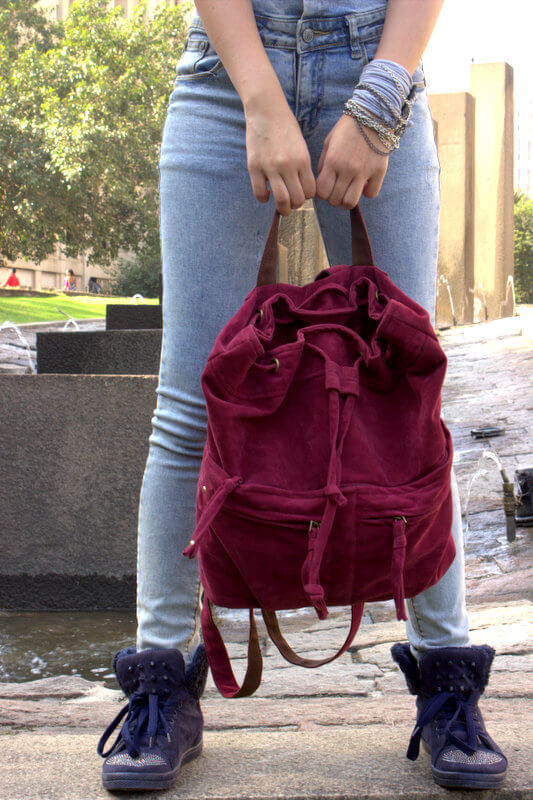 Dungarees- Outfits(bandra), Crop-Top- Shimmer, Handband- Blur,
Sneakers & Bagpack- Westside
November has been a very busy month for me! Too much pending work, exams, birthdays to attend, shoots, meetings which took a toll on me but I still owe you guys an apology! I here on, promise not to procrastinate(maybe a little lesser).

It stands true when said, Nothing in the fashion world is really new! Fashion trends are basically just rotating, and all credits given to the ones who started it. And now the only trick here is, how we style and carry it! When its come to styling myself on a daily basis, I always prefer to go with something that is comfortable yet quirky.
When you look at Dungarees/Overalls, what is the first thing that comes to your head?
Maybe when we were children or a building labourer or a woman factory worker from World War 2?
(Imagination level: Say what?)
But sometimes we need to let our inner child out and what's more perfect than a pair of overalls? I've always loved them but never wore one after 13 maybe. But of late, I've seen so many different patterns, prints, colours and undoubtedly, had to fall in love with it again.
Overalls are more or less a statement piece for me — they suit all seasons and are more amazing when layered well. It can be worn at more places than you think! The slouchy ones can be worn on Treks, Amusement parks, Movies, and there are always short fancier overalls for a night out with friends.
Dungarees are usually worn with a simple tee but my version of it had a skinny jeans dungaree with a girlier crop top! It made the ensemble relatable to me. You all must have seen me wearing heels, gladiators, boots ,oxford shoes but never sneakers! So I kept my preconceived notions aside and took a chance with them. I decided on these navy blue pair which I picked it from Westside and it gave the edge as I wanted to this look a bit sporty.
I'm currently loving backpacks and actually carry them if and when the outfit permits. Don't judge me but I have too many obsessions at one time, and these backpacks are just too adorable! And this was an oxblood which obviously had me wanting it all the more. I've picked faux leather ones that I've been gushing over too! I gave most accessories a miss and just wore the grey tassle chained hand gear.
While shooting this look, I was nothing short of a 5 year old kid who was being bribed chocolates to pose and jump around. We couldn't stop laughing and I'm told, the photo of the jump had me more looking like the aliens were coming to take me back! (My friends have kind words for me).
Do tell me how did you like the change and would love to know how'd you style it! See you guys very soon! Until then,
Lots of love,
Riya Jain