I still can't believe that we have already reached July :s. Half a year is over and I always waited for June and July cause those were the days when we used to start preparing for the new college year to start. I always used to be in a dilemma what to wear as we girls want to look nice and pretty. Cmon its our first day and people check you out so dressing is really important. Haha I hope I am not the only one, back me up here. Though I passed out my college life but I can still understand how important is to be dressy.
I used to always keep my clothes ready at night only so that I don't have to worry in the morning but always ended up second guessing and start hunting all over again that always used to make my friends wait. Haha I'm hoping you all relate to at least some of it.
Anyway, I know college has started and I have received a lot of emails and DMs regarding college look options.
So I will be sharing few tips of how I got through my years smile emoticon
1. Always wear comfortable clothes because of the summer end and rain humidity going strong. So ya, I always preferred sleeveless clothing.
2. Play with accessories but keep it very minimalistic as you don't want to grab too much attention and save something for the nights.
3. Do tag along a watch because when you are in college cause you can't always pull out your phones amidst boring lectures if and when you do attend.
4. Don't at all consider wearing heels. You want elevation then go for wedges but oxfords, pretty ballerinas, and strappy flats are the go-to for college
5. Carry a medium size bag so that you can stuff everything and you have a hands-free travel.
Coming to the look, Don't you think slit tops are trending since a while now and I believe you should buy at least one because they are damn fancy and they go with anything and everything. MissaMore is a clothing brand and they are big on long length silt tops and capes. Their clothing has been my go-to recently as it is really comfortable and have an edge. If i would have been in college still(I wish, growing up is a trap) I would have definitely tried out this trend as it is a must have. Silt tops can be worn with anything but I never preferred wearing shorts in college so I tagged a simple navy blue high waisted jeans and wore shoes with it. This ensemble is quite simple but for a college look it is definitely a big yay from my side. I got everything together by adding boho earrings to play it down.
Do let me know if do try this look and as silly as it sounds but do tag me if you actually buy a slit top after this post. I'm sure it will be a hoot and look out for more college looks with monsoon playing a big part too. I tried to make this post relatable and I'm hoping to do more of this now on. Please do leave me feedback if you guys like the post. Coming with a new look super soon.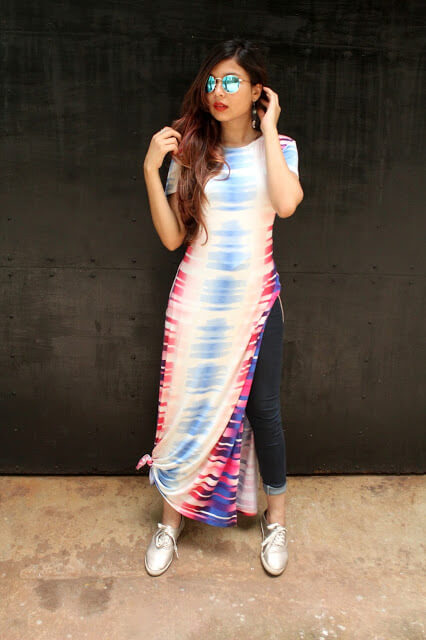 Slit Top- MissaMore, Jeans – Shimmer,
Shoes- Forever21, Glares- AND, Bag- Lavie