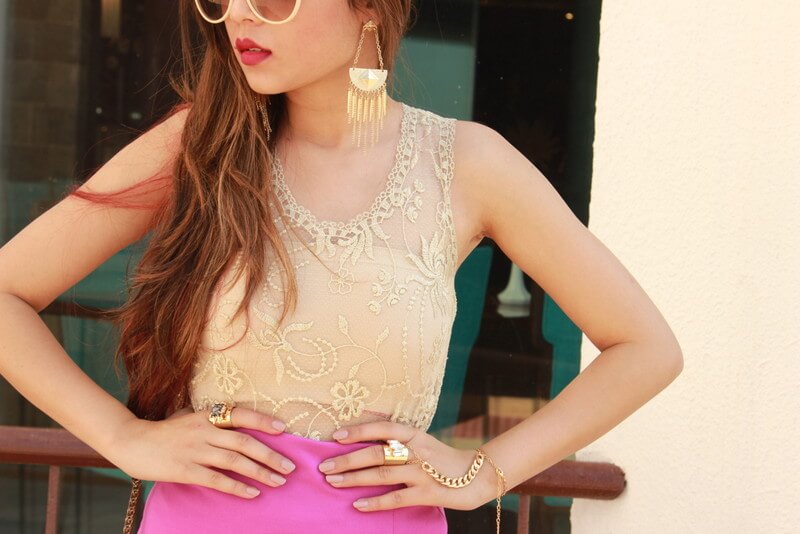 Top-Shimmer, Skirt-ThinkPink,
Glares-Stole It From A Friend, Rings- BdayGift
Earrings-MadishTheStyleBar, HandHarness-Lokhandwala Market,
Sling-Snazzy,
Heels- Flipkart(Cartlon London)
Well it is a little late to shout out a Happy New Year but I still wish you guys all the happiness and success for this year! 2014 was a splendid year and I can't thank you people enough for supporting me. Whatever I am today is just because of your feedback, love, and motivation.
This year will feature my version of the varied trends, hesitant buys, new statements and some carried forward favourites! For me styling is making something passé stand out. Blogging has made me try so many different things, but I've always tried to adapt a trend to my liking and not lose my sense of style to join the lot.
This post has a pair up of nude and an onion hued purple, that are among the colours I would pick when going shopping. The slit skirt is something I had completely forgot about. I had picked this up during my birthday haul but never really got a chance to wear it. My Instagram speaks for the mad love I have for the maxi length so this one didn't need much thought. The fitting of the skirt was flattering and it went well with the top. I ditched my crops and went with this sheer top instead.
The nude generally blends well and sober downs any outfit in a subtle way. I found the gold detailing on the nude really pretty and thought of keeping this look on the girlier side. My last post had glitz-beaded leggings, and I have been a fan of such detailed clothing as it pretty much speaks for itself. I still opted for statement earrings and a hand harness, which seemed to complete the look.
This would definitely be something I would fashion for a day look. It is subtle and strong, all at once which is something I swear by when getting dressed! I hope you people liked the post. Moreover, I'd love to hear what you have to say about this look. Until next time.
Love,
Riya Jain