Holaa peoplee,
In a mid week crises but more worried about what to wear for a brunch or a party for the upcoming weekend? I'm sorting you guys with two preppy looks from Vastra's collection.
Look 1
I decided to go with a cute lace crop top and grey coloured palazzo but in the pictures it is difficult to guess the shade because neither did the Sun play along nor did the camera. Though I love how both of it blended to give a subtle touch. Light on light shade usually is spot on and can do wonders if you ensemble well. If you guys have never tried this combination, y'all are surely missing out on something. Light colours are "supposed" to be for the day and I too prefer to wear them in the afternoon or early evenings. But I'd probably do a light coloured night look too! Anyway, I wore this look for a brunch couple of days back with friends. I teamed this up with a white handbag and my pink flats. I kept my accessories minimal, and wore my favourite sunglasses for the last bit! It served well for the sudden change of weather in Mumbai.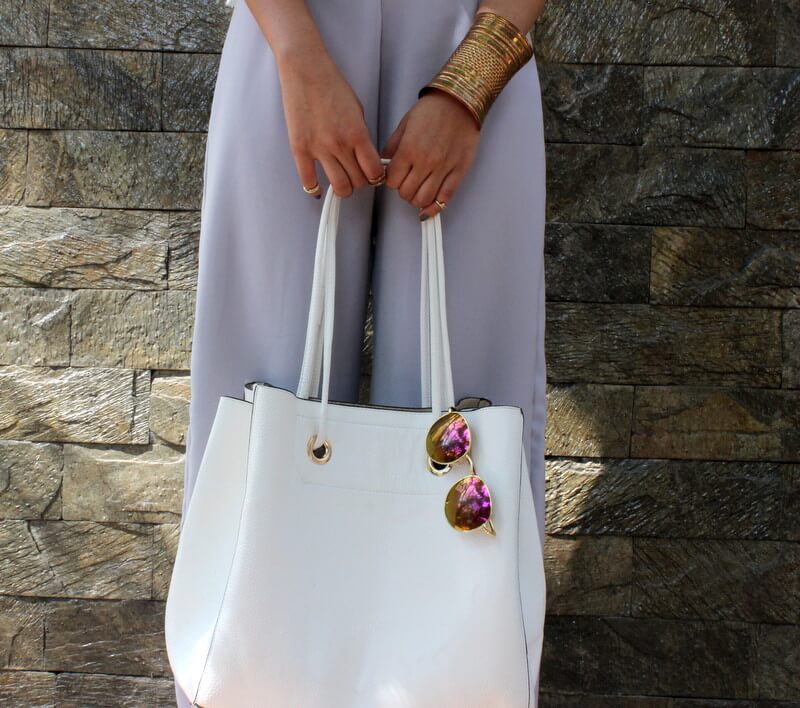 Crop top & Palazzo- Vastra, Bag- Snazzy,
Cuff-Lokhandwala Market
2nd look
Whenever weekend is around the corner don't we all get excited? The excitement turns into a big dilemma when you have to think of what to wear for a night out with friends. Every weekend I sulk that I have nothing to wear, during which black plays a saviour and it flawlessly works for the nights. So for this look, I decided to go with a black crop top, a cute floral print fluffy skirt and I teamed it up with heels and carried a structured black sling to go. I wanted to keep accessories minimal here too so just wore earrings and a studded screw bangle with it. Obviously one can junk up to suit the event. I'll always be a sucker for blacks even though I'm opening up to a lot of bold shades and prints now.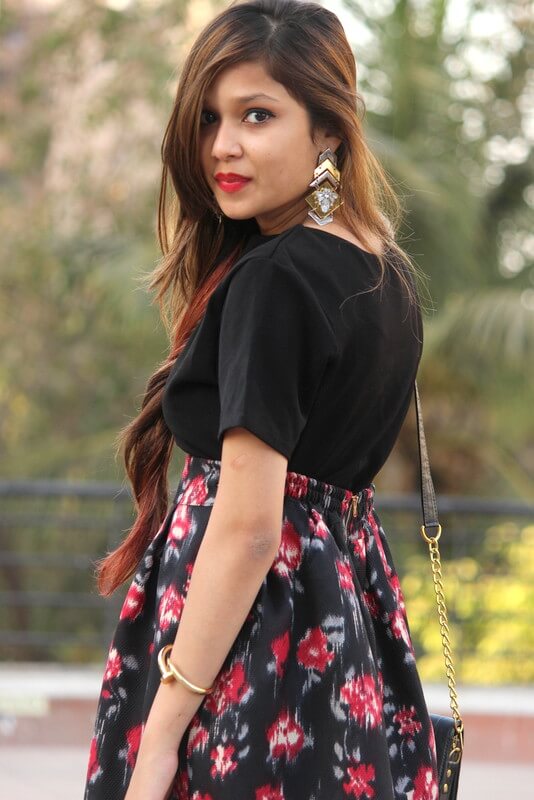 Skirt,Crop Top, Sling- Vastra, Earrings- Blur
Heels-Jabong
Vastra is a brand started by Milonee and she is exhibiting on 28th February 2015 10 am to 7pm B-403 Prathmesh Residency, Dadabhai Road, near Bhavans College, Andheri (W) Mumbai-400058. You could follow them on Instagram and Facebook. And you guys should definitely go and visit her exhibition as she has immense options in clothing and bags. There is something for everyone and trust me, they are all a steal.
Until next time,
Love,